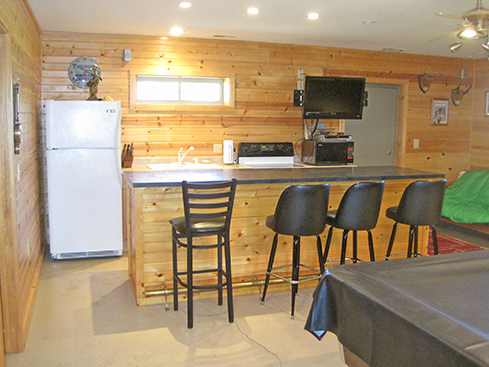 112319 Auction_12711 Hamilton Road
Saturday, November 23, 2019
Personal Property @ 9 AM – Real Estate @ 11 AM
Location: 12711 Hamilton Road, Roanoke, IN 46783
Directions: Hwy 469 West to Zurback Road to Hamilton Road. Follow Signs.
768 sq ft Home 1 Bedroom, 1 Bath on 14.68± Acres w/24×33 out building, Recreational & Hunting Ground, Portable Deer Blind.
MOVE IN CONDITION!
Amenities:
Knotty Pine Walls
Well Maintained
Built in 1969
Allen County
Lafayette Township
School District: M.S.D. Southwest Allen County
House Finished SQ FT 768
Annual Taxes: $387.72
Ford Tractor w/Loader, Implements, John Deere Riding Mower, Shop Tools, Furniture, Collectibles
VEHICLES/IMPLEMENTS: 1970 Ford 1600 Diesel Tractor w/Model 770 Loader, Hi/Lo Transmission, Rear Weights, 1855 hrs, 11.2-24" Tires, PTO w/3 pt Hitch; John Deere X304, 4 Wheel Steer, 42" Cutting Deck, Rear Bagger, 17hp, 1,083 hours; Wood Dixie Cutter 5' Mower PTO Driven; 3' Cultipacker; 3' Rotary Hoe; 6' Spike Tool Harrow; 6' Yock Landscape Scraper; 7' Grader Blade; County Line 5' Tiller, PTO Drive; John 1 Row Planter; King Cutter 5 Brush Cutter, PTO Drive; Speedco 1 Bottom Plow; IH 500 Diesel Dozer; 7' ½" x 16' Tandem Axle Snowmobile Trailer; Trailer Tires P205/75R14.
TOOLS: 4×8 Hydraulic Lift; Air Cutter; Air Drill; Air Impact; Air Sander; Baldor 3hp 20 ton Hydraulic Press; Craftsman 10" Table Saw; Craftsman Floor Drill Press; DeWalt Electric Drill; Grinders; Hydraulic Log Splitter; Milwaukee Saw-zall; Rol-Air 2 Cylinder 5 hp Compressor; Skillsaw; Stihl Wood Boss 028AV Chain Saw; Super Striper Paint Machine; Tar Machine; Dremel Routing w/Attachments; 275 amp Welder; 6'x2' Welding Table w/6" Vise; Acetylene Torch Set; Cutting Torch Heads/Gauges; Ice Breaker 15 amp Welder; Miller 100 amp Arc Welder; Miller Portable Spot Welder; Welding Aprons/Gloves/Helmets; Badland 2500 lb Winch – NEW; 1 hp Electric Motors; Electric Auger; Predator 212cc Gas Motor – NEW; (4) Car Dollies; 3' x 2' Machinist Cabinet; ¾ Coffing Hoist; 48" Farm Jack; 9 Gallon Portable Air Tank; Adjustable Roller Stand; AEC Hammer Drill; Bolt Cutters; Bottle Jack; Come-A-Long; Construction Rake; Creeper; Extension Cords; Greenlee 100' Fish Tape; Hammers; Hand Tools; Hatch Pins; Kendal Oil Cans; Little Giant Die Set; Log Hooks; Machinist Chest; Machinist Vice; Marquette Battery Charger; Nuts/Bolts/Hardware; Pipe Wrenches; Portable Aluminum Ramps; Portable Work Bench; Post Driver; Propane Torch; Rigid Pipe Cutter/Threader; Rolling Seat; Rolling Tool Chest; Shop Lights; Sockets; Spotlight; Spud Bar; Steel Wedges; Timing Light; Tok Herm Fuel Pump w/Nozzle; Various ¾ Drive Sockets; Various Chains; Various Drill Bits; Various Sizes of C Clamps; 72 Bin Organizer w/Contents; Champion 40,000 BTU Kerosene Heater; Electric Fence Parts; Letter/Number Punches; Oil/Lubricants; Rubbermaid Truck Tool Box.
SPORTSMAN EQUIPMENT: Powermaster Crossbow w/Bolts; Quiver w/Assorted Arrows; Ben Franklin Pump BB Gun; Daisy 99 Champion BB Gun; Daisy Red Ryder BB Gun; Gun Rest; Powder Horns & Black Powder Equipment; Turkey Call; Assorted Pocket Knives; Sportsways Divers Knife w/Sheath; Bullwhip; CB Radio Equipment; Flexible Flyer Sled; Glendale Full Rut Target; Misc. Harley Davison Accessories; Motorcycle Helmets;.
LAWN/GARDEN: Ariens RT5020 Rear Tine Tiller w/5hp Motor; ATV  Rope Wick Weed Killer; Fimco 15 gallon Sprayer w/Electric Motor; Fimco 25 Gallon Sprayer w/3 hp Motor; McCulloch 16' Mac 3516 Chain Saw; McCulloch Gas Blower; Power Sprayer; Propane Turkey Fryer; Toro Electric Leaf Blower; Weed Eater Gas Blower; Yale 1 ton Chain Hoist; Chapman 4 gallon Backpack Sprayer; Hose Reel w/Garden Hose; Live Traps; Prize Lawn "Bigfoot" Spreader; Tripod Sprinkler; 2' Ladder; 28' Aluminum Extension Ladder; 6' Wood Ladder.
MISC: 300 ± gallon Fuel Tank w/Pump; Gun Safe; 55 gal Drums; Boot Scrubber; Camera Tripod; Cast Iron Stove; Dart Board; Deer Stands; Fire Extinguishers; First Aid Kit; Large Exhaust Fan; Metal Patio set; Pro Form Exercise Bike; Sump Pump.
COLLECTIBLES: Fort Wayne Pepsi Crate; Harley Davison Lamp; Neon Signs; Toy Guns.
APPLIANCES/ELECTRONICS: Microwave; Aden Pure Heater; Commercial Series Char-Broil Grill Heater; Hoover 16 gal Shop Vac; JVC DVD Player; Playstation w/Games; Vizio 32" Flat Screen TV.
FURNITURE/HOUSEHOLD: (2) Recliners; Bunk Beds; Futon; Antelope Mounts; Household Items; Triumph Clock.
TERMS ON REAL ESTATE: $7,500.00 DOWN balance due on closing. Property sold subject to confirmation of owners. Property sold as-is, where-is. Property sold for cash. (The sale of this property may be financed; however, the sale of this property IS NOT CONTINGENT to financing approval). The information stated in this brochure is the opinion of Wiegmann Auctioneers, Inc. and its agents; however, the decision to bid on the real estate property is entirely up to the individual bidders based on their own individual inspections and opinions. All measurements and tax information are from reliable sources, however, are not guaranteed to be accurate. Statements made day of auction takes precedence over any and all previous oral or written matter. Real Estate closing to be within 45 days of the auction date or sooner. *REAL ESTATE TAXES: Real estate tax information stated indicates what the current owner is required to pay and is merely a guideline (the new buyer's real estate taxes may or may not be the same as what the current owner is required to pay). Real Estate taxes prorated to date of closing.
TERMS ON PERSONAL PROPERTY: Payment forms: Cash, checks, MC/Visa/Discover (3% credit card convenience fee). All items sold as-is. Statements made day of sale takes precedence over printed matter. All sales are final. Not responsible for accidents.
Auctioneers Note: Everything has been well maintained.
Mr. & Mrs. Lee, Owners